Succeed on your career path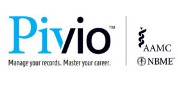 The Pivio® system is a new software tool that will connect data needed by medical students, residents, and physicians across their academic and professional careers, in order to assist users with lifelong learning, career planning, and individual growth. The Pivio® service is a "secure lock box" that will enable users to control the storage and transfer of data created throughout their academic and professional careers.
Join our free webinar and:
Discover the Pivio® system, an online resource that allows you to organize and share your most important documents simply and securely.
Understand the current features of this new standard in lifelong career documentation – pre-med through practice.
Learn how the Pivio® service can help save time and offer guidance throughout the medical career planning process.
Discover features that will help with faster, easier preparation during application processes.
Register before space fills up!
 Tuesday, April 22, 2014 10 a.m. – 11 a.m. ET
Thursday, May 15, 2014 7 p.m. – 8 p.m. ET
Back to News Archive